What is NPSP Day?
NPSP Day is a community organized and operated event that brings together users, contributors, consultants, developers, and supporters of the Salesforce.org open source Nonprofit Success Pack. This event is focused on helping users better understand how to use the NPSP to be successful. This is different from an NPSP Community Sprint, which is focused on community contributions to the building and enhancement of the NPSP.
Each NPSP Day is locally managed by a local community host organization, completely separate and independent from Salesforce.org. The 2018 Minneapolis NPSP Day was hosted by the Minneapolis Institute of Art (Mia) with their Chief Technology Officer, Douglas Hegley, and Now IT Matters' own Shonnah Hughes, the former technical lead at Mia. This event was organized and facilitated by Soapbox Engage's Ryan Ozimek in conjunction with the Minneapolis Salesforce Nonprofit User Group (Nick Lindberg).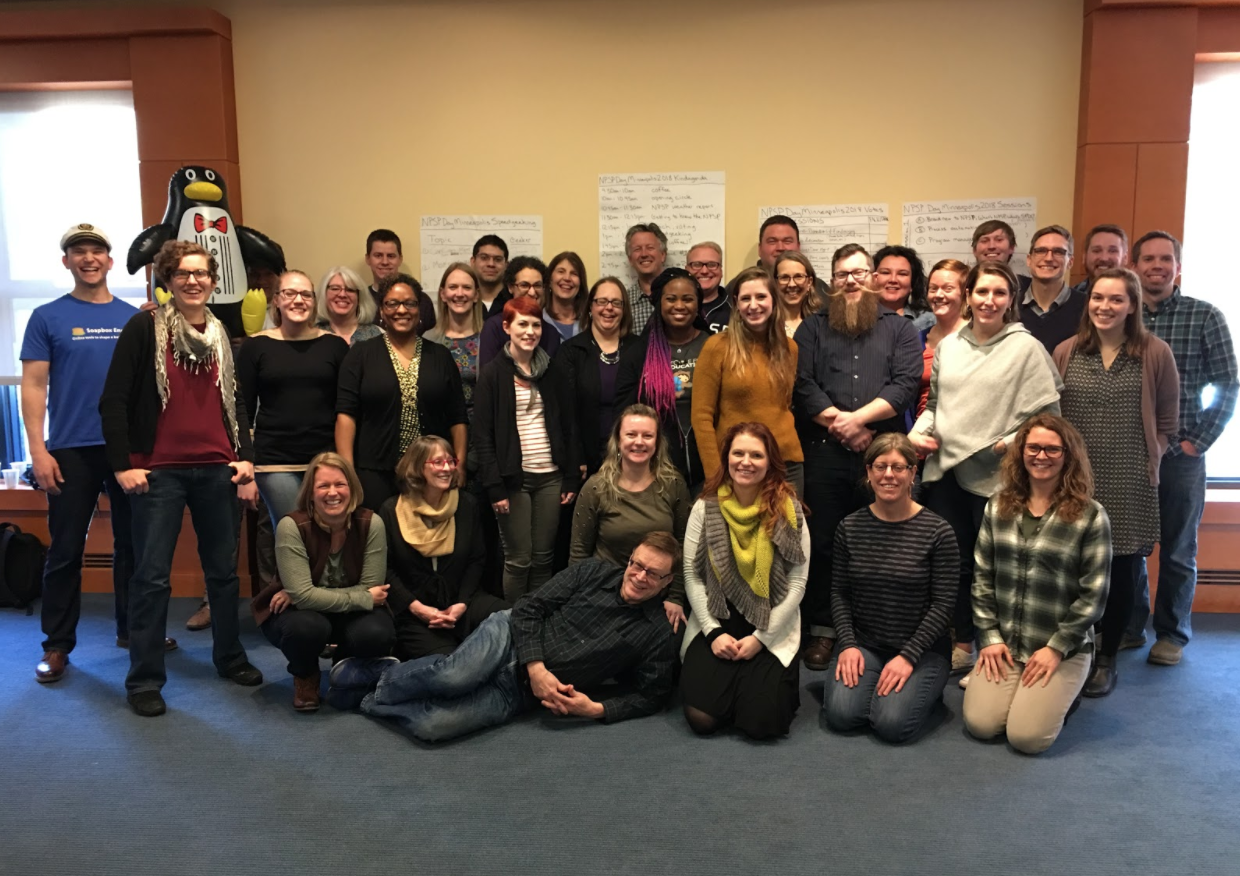 NPSP Day Attendees
Why attend?
Besides the fact that you get to hang out with "your" people, nonprofit people from all the different types of nonprofit verticals you can think of, for a day full of learning. You will get on-the-spot training from nonprofit experts and you will get the opportunity to network with nonprofit industry professionals at different levels of their career. However, the best part of this event is connecting with the community!
What do you do at NPSP Day?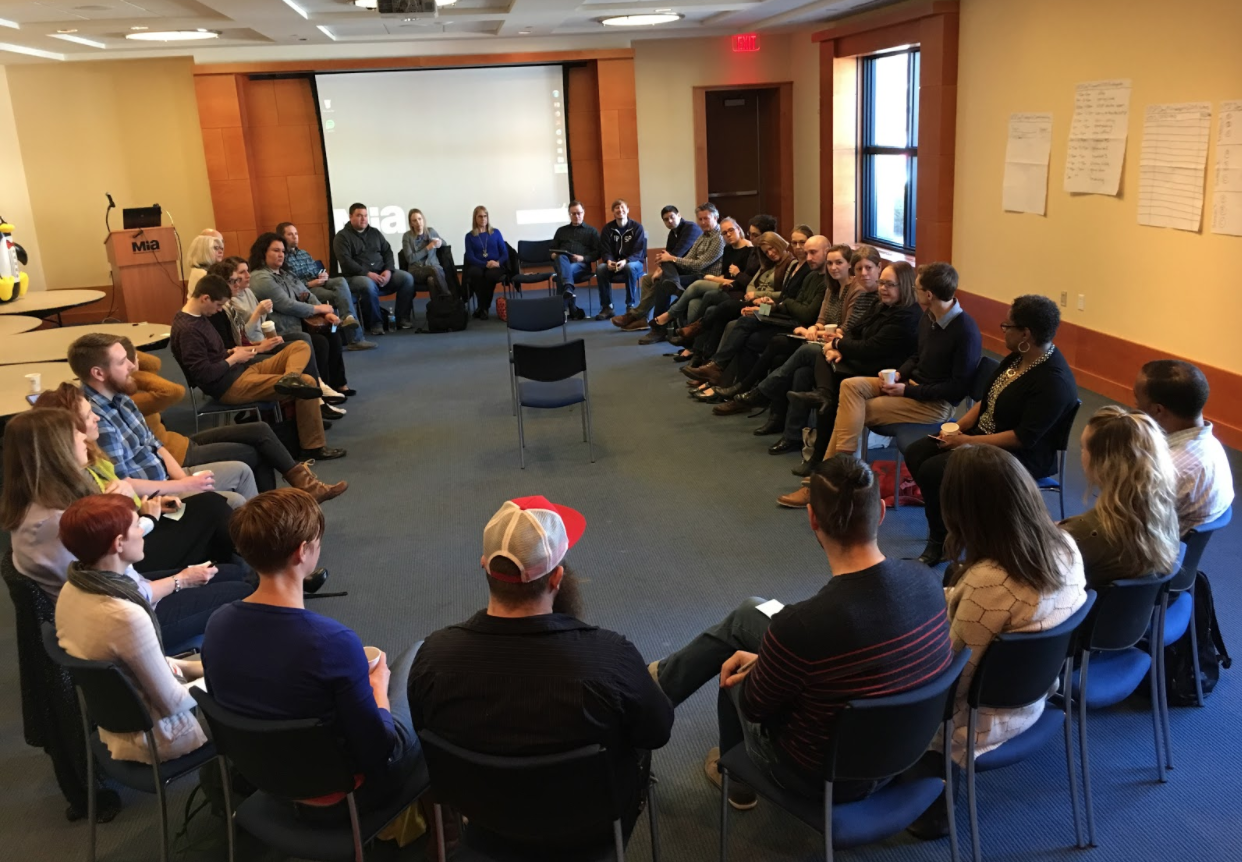 Opening Circle
Opening Circle
The day starts off with the opening circle. This circle can only be described as a hilarious kumbaya melting pot. This is an amazing way to get everyone comfortable and introduce us all to one another.
Weather Report
Next comes the "Weather Report." This is my favorite part! We first start out with sticky notes and NPSP specific topics of discussion regarding:
What's Working
What We Don't Know
What's Not Working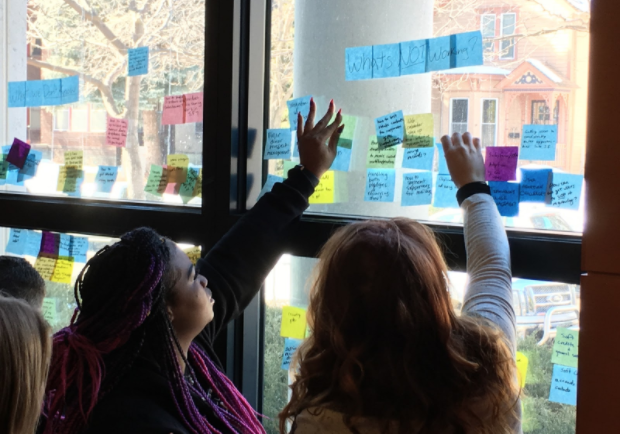 Everyone participates by writing things that affect them according to a topic. For example I wrote "Negative GAU Amounts" and I placed that under the "not working" topic.
We get a few minutes to write down all of our ideas, suggestions, and overall thoughts. Then we need to categorize them, using my above example I would create a category under "What's Not Working" called "GAU's" and place all the sticky's that speak to GAU's under that category.
We are given a few minutes to do this, but we are always trying to beat the last city's time. I think we actually did this year!
Once all the notes are categorized, someone is selected to give the "Weather Report." Now, I have to brag that Minneapolis's own Jamin O'Maley set the bar for how weather reports are done! This is a fun and entertaining activity and breathes life into the room and learning environment.
NPSP Overview
This is where Ryan gives a brief history of NPSP, really its origin story, and why its one of the coolest Salesforce products in their portfolio. It's fun to learn about its iterations and the "why," then to look to the future and how we all can have an impact and contribute to the product!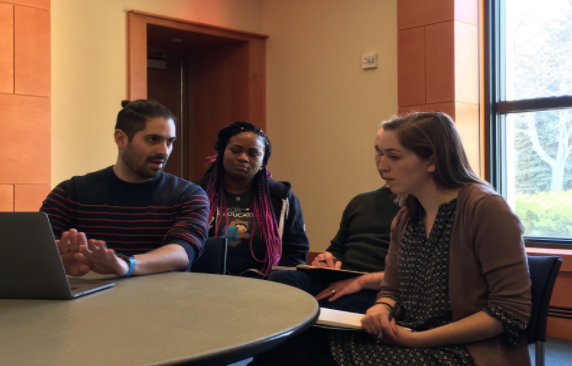 Speed Geeking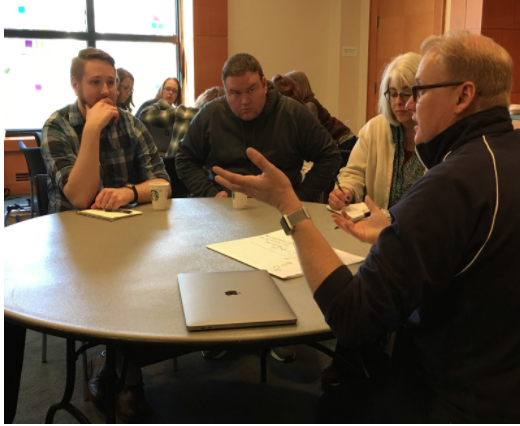 Think speed dating for nonprofit geeks, but instead of listening to someone tell you about themselves or telling them about you, you are learning about a specific NPSP feature and can ask how it applies to your use case. These solutions are presented by a community member and have been implemented and used in an active org.
Breakouts
This is not an escape room scenario, but breakout sessions where a topic selected by the group is discussed in more depth. The topics come from the items on the weather report, combined with a voting process to distill the topics down to a total of nine topics that will be discussed. You will have 3 breakout sessions total and within each session you will have 3 topics of discussion.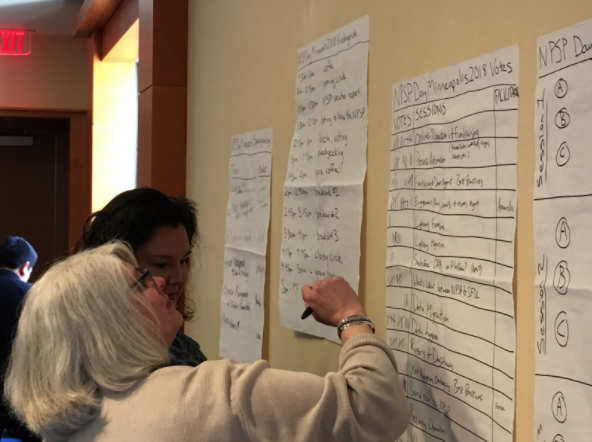 These sessions are designed to be an open-floor discussion with a facilitator. You are encouraged to ask questions and provide solutions and/or use cases. If you want to leave a discussion to hop to another topic, its okay to do so. During the session someone is assigned to take notes. Then at the end of the session, the note taker reports back to the entire group on lessons learned and any aha moments.
For example session one topics included:
Brand New to NPSP
Process Automation
Program Management
Closing Circle
This is designed to offer time to decompress and unpack discussions as a group. This is also the time where we highlight how important the HUB and the Trailblazer community are for continued discussions and answers. Then we officially sign off until the next NPSP Day…..
Happy Hour Anyone?
After a day of learning, collaborating and networking, you need some fun! We decided to have drinks with those who could attend at the Museum's Cafe. It was a nice way to unwind and have a few more laughs - most of us didn't want NPSP Day to end!I can't wait to do it all again next year!
Is NPSP Day worth the investment?
Absolutely. I highly recommend attending a NPSP Day if there is one in your town. I consider myself a seasoned Salesforce/NPSP professional, but I learned so much from the ideas and use cases presented at this event. I feel the difference between an NPSP Day and a NPSP Community Sprint is that the NPSP days focuses on you as an individual and answering your questions, as to where the NPSP Sprint focuses on the product itself and the Salesforce.org community as a whole. I love them both for different reasons, and I learn and grow from both events.
Many thanks to Ryan Ozimek and Soapbox Engage, Nick Lindberg, Tim Lockie, and the amazing Staff at the Minneapolis Institute of Art! Photo Credit: Ryan Ozimek & Tim Lockie Flickr link: https://flic.kr/s/aHsm8nqFRd