1 min read
Pep Up Tech Volunteer Experience By Saray Rosales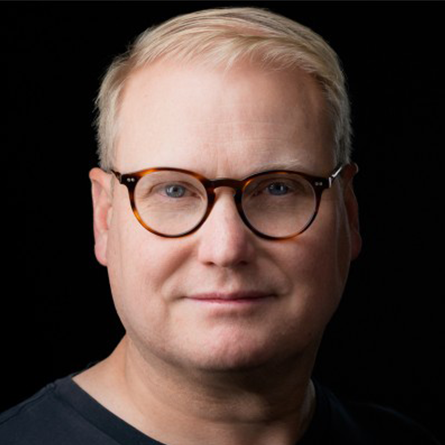 Tim Lockie : February 21, 2019
Now IT Matters is pleased to employ three PepUp Tech Alumni, and support their volunteer activities with Pep UP Tech. This blog post is written by NiM Associate Consultant Saray Rosales, following a PepUp Tech Bootcamp in New York.
PepUp Tech Boot Camp, Monroe College, New York. NiM's Shakil Kamran (front Row Left) and Saray Rosales (front row third from left, in Blue) are PepUp Tech Alumni, who volunteered at the recent PepUp Tech Bootcamp.
As a PepUp Tech Alumni, I had the opportunity to volunteer at a PepUp Tech Bootcamp that took place at the Monroe College located in the Bronx.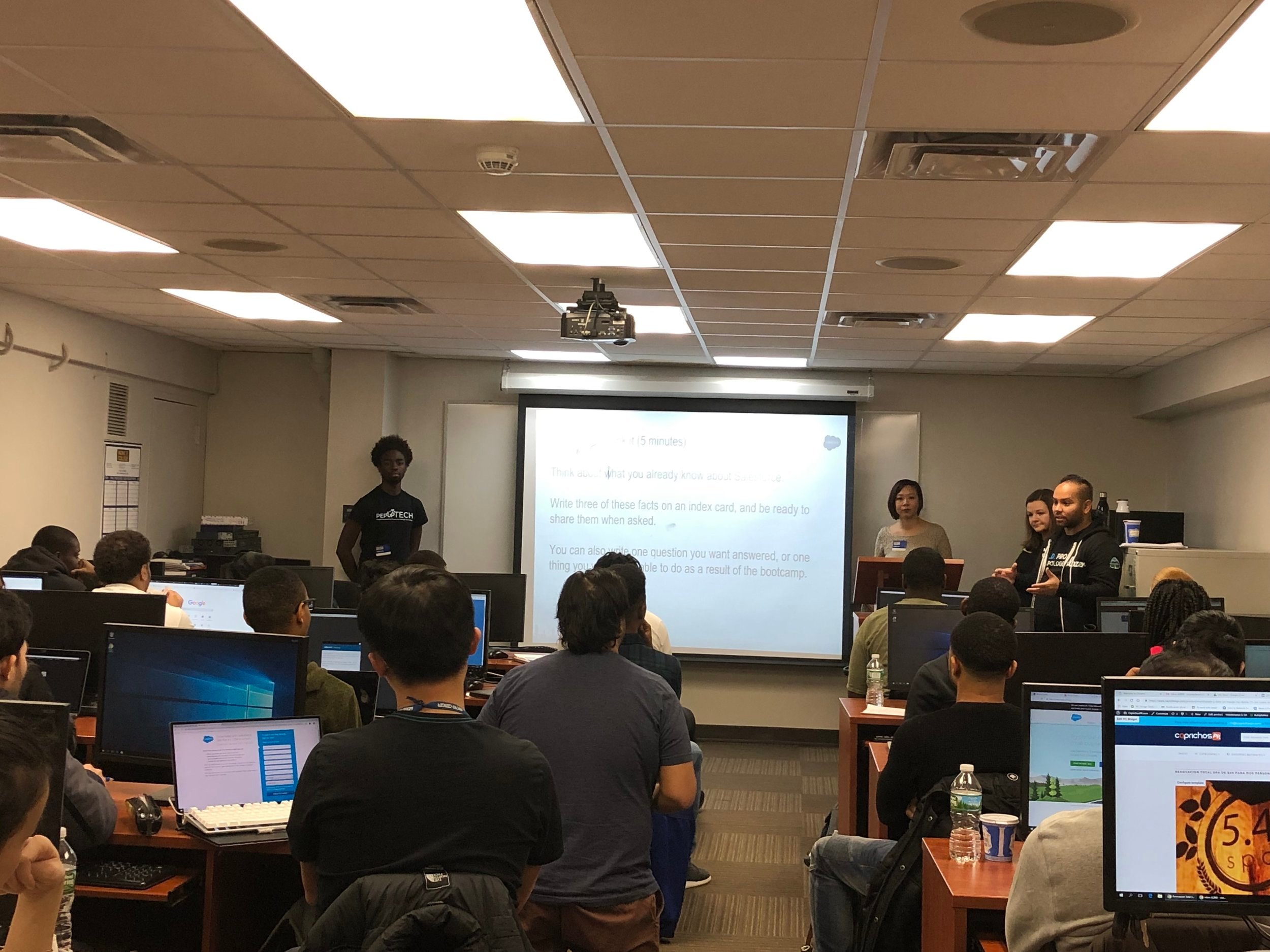 When I entered the room I could not avoid looking around and see so many diverse faces eager to learn everything about Salesforce and PepUp Tech. It was great to see the classroom full of people from different backgrounds but they all shared one common goal which was the desire to learn more about new technology.
The Bootcamp was lead by Devohne Moore, Program Coordinator at PepUp Tech, who did an incredible job leading the session and coming up with activities to break the ice between the students and the volunteers. Another guest volunteers with years of Salesforce experience like Jennifer Lee, Amanda Matczynski, Shakil Kham and Carlos Gallardo shared their knowledge with the students. We all shared our Salesforce journey from how we started in the industry and how we got where we are now. We all wanted to motivate the students and show them that there are no limits to where they want to take their careers.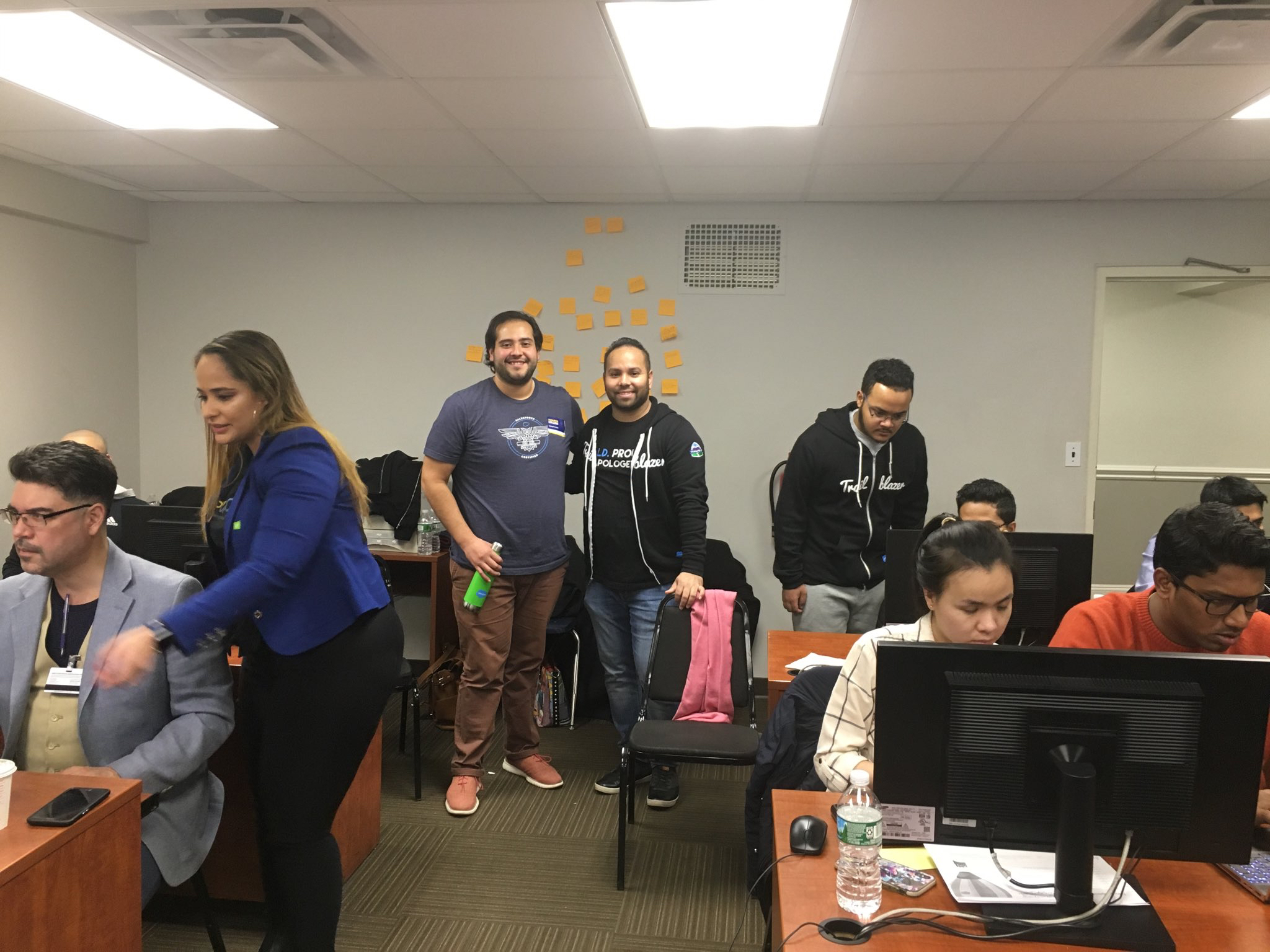 We introduced Trailhead to the students and explained what a great learning tool they have in their hand.
The students also created their Trailhead profile and they signed up for their own Developer Free Edition of Salesforce. We were there to answer all their questions and to assist them with the process.
Assisting the students reminded me that just a year ago I was in the same shoes as them trying to learn more about Salesforce. One of my main motivations to volunteer with PepUp Tech is that I want to give back to the community and teach others what I have learned so far. PepUp changed my life by introducing me to a world of endless possibilities that the tech industry has to offer.
Volunteering with PepUp Tech was an amazing experience! I was able to meet talented students that have a bright future ahead of them, and PepUp is opening doors for them by giving them the tools to move forward in their careers. #futureisnow #NiMgivingback